Most architects share a common stress inducing challenge: Keeping a steady flow of work coming through the door. Whether it's through word of mouth connections, the RFP process, developing relationships over the years, or other marketing efforts, one fact shines through - marketing can be exhausting.
That's why we produced this awesome free eBook called the 4 Week Architecture Marketing Overhaul. In this book, we outline how to transform your studio into a marketing powerhouse, generating leads and driving prospective clients to you... instead of chasing them down and hoping for that unique interaction.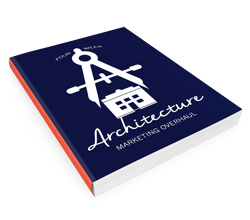 Learn how to revolutionize your efforts through this 4 week step-by-step process. Discover how to:
Identify marketing pitfalls (including how to cut extraneous marketing dollars)
Minimize your time invested and maximize your results
Create a qualified lead generating authority with little continuing effort
Capitalize on 4 of the newest and trending marketing strategies of the last year
...and more!